My Blog
Posts for tag: bad breath
By South Lyon Dental Care Center
December 31, 2020

Most of us have no clue how the ancient holiday tradition of kissing under the mistletoe originated—but it sure doesn't stop us from keeping the tradition alive! Yet although eager to join a certain someone under the hanging twig, you still might hesitate to apply the old smackeroo out of fear your breath isn't as fresh as it should be.
Bad breath has tormented us humans long before we started osculating (kissing) under trimmings of viscum album (the scientific name for mistletoe). Our resulting discomfort has inspired a myriad of remedies, from ancient Egyptian toothpastes containing natron (also used in embalming mummies) to 19th Century American breath mints made of ingredients like cardamom, essence of rose and licorice root.
Today, we're much better at relieving common bad breath because we've uncovered its primary source: bits of food and mucus accompanied by oral bacteria on undisturbed areas the mouth, particularly the tongue. As the debris interacts with the bacteria, it releases chemical compounds called VSCs (volatile sulfur compounds) that emit a classic rotten egg smell.
The key then is to remove the source of these VSCs. You might think that means doing a better job of brushing and flossing, and you're right. But it can involve more.
Keeping your tongue clean. Since the tongue is a prime collecting point for debris and bacteria, it makes sense to keep it clean. That might simply mean brushing its surface when you brush your teeth. You might, however, benefit from using a tongue scraper if you have more stubborn accumulations.
Maintaining your dentures. These and other dental appliances can accumulate food debris that if not removed can cause a "stink." You should clean dentures daily using a denture cleaner or mild antibacterial soap and then rinse them off thoroughly. It also helps to take them out at bedtime.
Seeking dental care. Another source of bad breath could be tooth decay or gum disease, or even older dental work in need of repair. Treating these and other conditions (like an oral yeast infection) not only improves your dental health, it could do wonders for your breath.
There are also other sources of foul breath unrelated to the mouth—and some can be serious diseases like diabetes, cancer or lung infections. If your chronic bad breath doesn't respond to your hygiene efforts, it's a good idea to get checked medically.
Now as to holiday traditions, we can't help you maneuver your prospective sweetheart under the mistletoe with you—you're on your own, pal (or gal). But by following these tips for sound oral care, we're sure you'll have the "fresh breath" confidence to follow through from there.
If you would like more information about eliminating chronic bad breath, please contact us or schedule a consultation. To learn more, read the Dear Doctor magazine article "Bad Breath."
By South Lyon Dental Care Center
August 09, 2018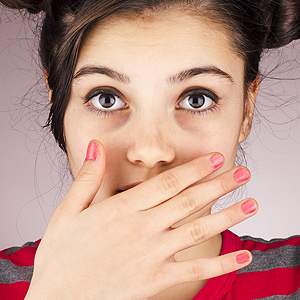 National Fresh Breath Day is celebrated in August, but who doesn't want fresh breath every day? Everyone has bad breath once in a while, so here are some tips to fight it.
1. Step up your oral hygiene routine.
Good oral hygiene is the first line of defense against bad breath. Brush your teeth morning and night and floss daily to remove much of the tiny food debris and plaque (colonies of oral bacteria) that can cause bad breath.
2. Don't neglect your tongue.
A coated tongue can be a source of bad breath, so brush your tongue as well as your teeth or use a tongue scraper, which can be purchased in the oral health aisle of your local pharmacy.
3. Clean around your braces.
If you have braces, use an interdental brush or a water flosser to free trapped food particles.
4. Pay attention to your oral appliances.
If you wear dentures, be sure to clean them thoroughly every day, and brush your gums and the inside of your mouth as well. Bridgework also needs special attention: Clean carefully around the bridge and under the false tooth, as food can get stuck there.
5. Tackle dry mouth.
Dry mouth, a major cause of bad breath, can result from numerous medications, salivary gland problems, or breathing through the mouth instead of the nose due to sinus problems, sleep apnea, or other conditions. If your mouth is chronically dry, chew sugarless gum to stimulate saliva production, or ask about an over-the-counter or prescription saliva substitute.
6. Avoid extreme dieting.
Weight loss diets that advocate a stringent reduction in carbohydrates can lead to "keto breath." This foul-smelling breath happens when the body burns fat instead of glucose for fuel.
7. Quit smoking.
In addition to smelling like cigarettes, people who smoke have less—as well as lower quality—saliva, which contributes to bad breath and poor oral health. If you need help quitting, talk with us or call (800) QUIT-NOW.
8. Be aware that some foods and beverages can leave stinky breath.
These include garlic, onions, strong spices, coffee, alcohol, cheese, and canned fish.
9. Keep up with regular dental visits.
Professional dental cleanings are necessary to get rid of hardened plaque (tartar) that can't be removed by your brushing and flossing routine at home. We also check for gum disease, another cause of bad breath.
10. See your doctor.
Certain medical conditions like acid reflux, diabetes, and respiratory infections can cause bad breath. If you have an untreated health condition, make an appointment with your medical doctor.
If you are concerned about bad breath, please contact our office or schedule a consultation. You can learn more in the Dear Doctor magazine article "Bad Breath: More Than Just Embarrassing."