My Blog
Posts for tag: celebrity smiles
By South Lyon Dental Care Center
March 17, 2019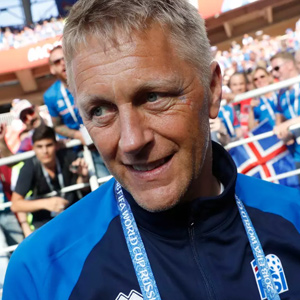 If you followed the 2018 FIFA World Cup Soccer games, you probably know that one of this year's biggest surprises was the debut of the team from Iceland—the smallest country ever to earn a chance at the sport's top prize. But here's something you may not have known: When he's not on the field, the team's coach, Heimir Hallgrímsson, is a practicing dentist! Those two skill sets might not seem like a natural fit… but they came together dramatically at a recent contest.
At a local women's game last summer, when a player was hit and her tooth was knocked out, Dr. Hallgrímsson took immediate action. "I jumped on the pitch and put the tooth back in, took her to a dental office and fixed it," he said.
Not everyone has the special training or ability to fix a tooth that has been damaged or knocked out—but there are some simple things that you can do to help an adult who has suffered this kind of injury. Here's a quick run-down:
After making sure the person is stable and not otherwise seriously injured, try to locate the tooth.
Handle it carefully, without touching root surfaces, and clean it gently with water if possible.
Try to open and gently rinse out the mouth, and find where the tooth came from.
Carefully place the tooth back in its socket, making sure it is facing the right way, and hold it in place with a soft cloth.
If the tooth can't be re-implanted, place it in a bag with a special preservative solution, milk or saliva, or have the person hold it between the cheek and gum—but make sure it isn't swallowed!
Rush to the nearest dental office or urgent care facility.
When these steps are followed and the person receives professional treatment as quickly as possible (ideally within minutes), their tooth will have the best chance of being saved. But even if it isn't possible to preserve the tooth, receiving prompt and appropriate care can make replacing the tooth much easier.
Having Dr. Hallgrímsson on the sidelines was a lucky break for the injured soccer player—and as a coach, just getting to the World Cup is a remarkable achievement. But you don't need to be a coach (or a dentist) to give first aid in a dental emergency. Taking the right steps can help ensure the best possible outcome… and might even save a tooth!
If you would like more information about emergency dental treatment, please contact us or schedule an appointment for a consultation. You can learn more by reading the Dear Doctor articles "Knocked Out Tooth" and "The Field-Side Guide to Dental Injuries."
By South Lyon Dental Care Center
June 25, 2017
Even after losing a tooth in an on-court collision with an opposing player, Isaiah Thomas didn't slow down. The Boston Celtics point guard completed the play…and the rest of the game. Unfortunately, that wasn't the end of his dental problems — it was just the beginning.
Over the next few days, Thomas had a total of ten hours of oral surgery to treat problems with multiple teeth. He got a temporary bridge, and will receive a permanent one at a later date. He also got fitted for a custom-made mouthguard to prevent re-injury.
We're pleased to see that Thomas is getting appropriate dental treatment. But it's unfortunate that he didn't get the mouthguard sooner; this one piece of inexpensive safety gear could have saved him a lot of pain and trouble. If you think mouthguards are strictly for full-contact sports, Thomas' troubles should make you think again. In fact, according to a 2015 study in the journal Sports Health, the five sports with the highest overall risk of tooth loss are basketball, football, hockey, martial arts, and boxing. Plenty of other also involve the risk of dental injury.
The study also notes that some 5 million teeth are avulsed (knocked out) each year in the U.S. alone. Countless others are loosened, fractured or chipped. What's more, it is estimated that the lifetime cost of treating an avulsed tooth is between $5,000 and $20,000. The cost of a custom-made mouthguard is just a small fraction of that.
Where can you or your child get a custom-made mouthguard? Right here at the dental office! These high-quality items are professionally fabricated from a model of your actual teeth, so they fit much better than an off-the-shelf one ever could. They offer superior protection, durability and comfort — because, after all, no mouthguard can protect you if it's too uncomfortable to wear.
Thomas' season is now over due to a hip injury, but at least he will now have time to rest and get his dental problems taken care of. Let's hope his story will inspire more athletes — both professional and amateur — to prevent similar problems by wearing custom-made mouthguards. Whether you compete on a school team, enjoy a pick-up game after work, or play in the big leagues, a dental injury is one problem that you don't need.
If you have questions about custom-made mouthguards, please contact us or schedule an appointment for a consultation.