My Blog
Posts for tag: cosmetic dentistry
By South Lyon Dental Care Center
December 27, 2018
As December brings the old year to a close, it's a great time to set goals for the year to come. This might include a major life change, such as a new job—or even a new romance! If one of these items is on your list for 2019, a smile makeover may be just the thing to help you get there.
Having a great smile can give your self-confidence a real boost. It can also affect how you are perceived by others. According to a survey by the American Academy of Cosmetic Dentistry, 99.7% of adults believe a smile is an important social asset and 96% believe an attractive smile makes a person more appealing to members of the opposite sex. At the same time, three quarters of adults feel that an unattractive smile can hurt a person's chances for career success.
If you aren't pleased with your smile and want a new look, we can help you figure out which cosmetic dental treatments could be right for you. The answer might be something simple—like an overall brightening of the smile with professional teeth whitening, or fixing a small crack or chip in a single tooth with cosmetic tooth bonding. If you're unhappy with worn-down or crooked teeth, dental veneers or orthodontic treatment might be the way to go. In fact, many adults find that orthodontic treatment with clear aligners is a great way to get a beautiful, straight smile without drawing attention to the fact that a makeover is in progress.
Of course, it's not only important for your smile to look good but also for your whole mouth to stay healthy. So if you are experiencing any tooth pain, unusual mouth sores or gum problems, it's time for you to come in for an exam. And if it's been a while since you've had a dental checkup and professional teeth cleaning, why not make an appointment for early in the year? Don't start the new year with last year's dental problems!
If you would like more information about cosmetic dental treatments or preventive dentistry, please contact us or schedule a consultation. You can also learn more by reading the Dear Doctor magazine articles "How Your Dentist Can Help You Look Younger" and "Dental Hygiene Visit."
By South Lyon Dental Care Center
August 29, 2018
You may be able to slow the aging process with healthy habits but you can't stop it. Every part of your body will change, including your teeth and gums. And even with great dental hygiene and care, there are at least two aging outcomes you may not be able to avoid: discoloration and tooth wear.
Fortunately though, we have ways to counteract these effects and help you enjoy a much younger-looking smile. These techniques range in complexity and cost, but when tailored to your individual situation they can make a world of difference and restore your confidence in your smile.
Brightening teeth that have yellowed with age can be as simple as undergoing teeth whitening. The bleaching solution in this procedure (performed in the office or at home with a prescribed kit) can minimize enamel staining built up over the years. It can even be performed with some control over the level of desired brightness. Although whitening isn't permanent, with proper care and regular touch-ups you can keep your youthful, dazzling smile for some time.
Tooth whitening, however, may not be enough in some cases of discoloration. If so, you can gain a bright new smile with porcelain veneers or crowns. A veneer is a thin layer of tooth-colored material bonded to the front of a tooth; a porcelain crown completely covers a tooth and is usually cemented onto it.
Normal tooth wearing can also affect the appearance of older teeth, making them look shorter and with less rounded edges than younger teeth. Veneers and crowns can be utilized for this problem too, as well as enamel shaping with a dental drill to minimize those sharp edges and project a softer, younger appearance. In extreme cases, surgically reshaping the gums can give teeth a longer and a more natural look.
These are just a few of the ways we can address these two aging problems, as well as others like receding gums. Depending on your situation, it's quite possible we can help you take years off your smile.
If you would like more information on cosmetic answers to aging teeth, please contact us or schedule an appointment for a consultation.
By South Lyon Dental Care Center
June 09, 2017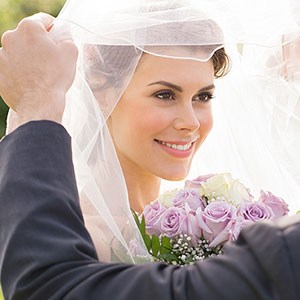 The big day you've waited for all your life is just around the corner — your wedding day! And to make that day as special as possible you've been working on making yourself more attractive.
In all your preparations, don't forget your smile. There are many ways to make it shine, some requiring little time or effort. A professional dental cleaning and polishing, for example, can do wonders for brightening your smile. If you have above normal staining, you can also undergo professional whitening to remove stains and enhance your teeth's natural color.
Some problems, though, like chipped, slightly misaligned or heavily stained teeth may require more than a cleaning or whitening session. In these cases, you might consider covering these less attractive teeth with porcelain veneers to transform their appearance. As the name implies, veneers are a thin layer of tooth-colored, translucent porcelain custom designed for you and bonded permanently to the visible tooth.
While veneers can significantly change your smile, it can't fix every appearance problem. Some teeth require more extensive dental work, like a porcelain crown that completely covers a tooth, or dental implants to replace missing teeth. In more complex situations you may want to look at orthodontics to repair an unattractive bite, or plastic surgery to change the look of a gummy smile.
Keep in mind, though, many of such treatments take time: installing dental implants can take months and some orthodontic treatments, years. As soon as you can, you should discuss your smile appearance with your dentist and what can be done to enhance it in the time you have.
With the help of your dentist, orthodontist or other specialist, you can change your smile. And that, along with all your other preparations, will help make that once in a lifetime day even more special.
If you would like more information on undergoing a smile makeover, please contact us or schedule an appointment for a consultation. You can also learn more about this topic by reading the Dear Doctor magazine article "Planning Your Wedding Day Smile."