My Blog
Posts for tag: smoking
By South Lyon Dental Care Center
April 26, 2019
With a 95-plus percent survival rate after ten years, dental implants are one of the most durable replacement restorations available. Implants can potentially last much longer than less expensive options, which could make them a less costly choice in the long run.
But although a rare occurrence, implants can and do fail—often in the first few months. And tobacco smokers in particular make up a sizeable portion of these failures.
The reasons stem from smoking's effect on oral health. Inhaled smoke can actually burn the outer skin layers in the mouth and eventually damage the salivary glands, which can decrease saliva production. Among its functions, saliva provides enzymes to fight disease; it also protects tooth enamel from damaging acid attacks. A chronic "dry mouth," on the other hand, increases the risk of disease.
The chemical nicotine in tobacco also causes problems because it constricts blood vessels in the mouth and skin. The resulting reduced blood flow inhibits the delivery of antibodies to diseased or wounded areas, and so dramatically slows the healing process. As a result, smokers can take longer than non-smokers to recover from diseases like tooth decay or periodontal (gum) disease, or heal after surgery.
Both the higher disease risk and slower healing can impact an implant's ultimate success. Implant durability depends on the gradual integration between bone and the implant's titanium metal post that naturally occurs after placement. But this crucial process can be stymied if an infection resistant to healing arises—a primary reason why smokers experience twice the number of implant failures as non-smokers.
So, what should you do if you're a smoker and wish to consider implants?
First, for both your general and oral health, try to quit smoking before you undergo implant surgery. At the very least, stop smoking a week before implant surgery and for two weeks after to lower your infection risk. And you can further reduce your chances for failure by practicing diligent daily brushing and flossing and seeing your dentist regularly for cleanings and checkups.
It's possible to have a successful experience with implants even if you do smoke. But kicking the habit will definitely improve your odds.
If you would like more information on dental implants, please contact us or schedule an appointment for a consultation. You can also learn more about this topic by reading the Dear Doctor magazine article "Dental Implants & Smoking."
By South Lyon Dental Care Center
July 10, 2018
While cigarette smoking has been linked with lung cancer and heart disease, it, can also contribute to dental disease. You can reduce these risks by doing one thing — quitting smoking.
But that's easier said than done: forty-six percent of smokers try to quit every year, but only one in ten are successful long term. The difficulty is tied to tobacco's active ingredient, nicotine, an addictive substance that triggers chemical and behavioral dependence. Nicotine "re-wires" the brain to feel pleasure when it encounters the chemical, and to feel bad when it's deprived. Social, occupational or recreational activities can further reinforce the habit.
Many smokers try to quit through sheer willpower or "cold turkey." Because of nicotine's addictive properties, this rarely works — instead, you need a comprehensive strategy tailored to you.
You should begin first with trying to understand your individual smoking patterns: when do you smoke, how frequently, or during what activities? To help with this you can use a "wrap sheet", a piece of paper you keep wrapped around your cigarette pack. Each time you take out a cigarette, you would record how you feel on the sheet. This also slows down the action of taking out a cigarette and lighting it, which can help you become less mechanical and more mindful of your habit.
You can also break your dependence by gradually introducing restrictions to your smoking: smoke only in certain locations or at certain times; substitute other stress-relieving activities like a walk or other physical exercise; or gradually reduce the number of cigarettes you smoke. You can do the latter by setting a goal, say to smoke 20% fewer cigarettes each successive week; this will force you to increasingly make choices about when you smoke.
Finally, don't try to go it alone. You can benefit greatly from professionals, including your dentist, to help you kick the habit through Nicotine Replacement Therapy (NTR) with prescription medication, counseling or smoking cessation support groups.
Quitting smoking isn't so much stopping a behavior as it is "unlearning" one and establishing new, healthier ones. The first step, though, is accepting you need a change, one that will benefit your whole life.
If you would like more information on quitting smoking, please contact us or schedule an appointment for a consultation. You can also learn more about this topic by reading the Dear Doctor magazine article "Strategies to Stop Smoking."
By South Lyon Dental Care Center
April 29, 2017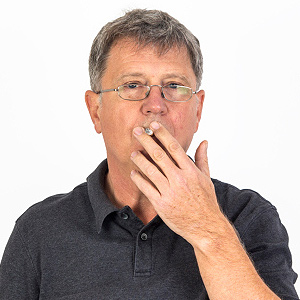 You probably already know that using tobacco causes significant health risks: It increases your odds of getting various cancers and coronary diseases, to name just a few. Unfortunately, not everyone is able to kick the habit, even when they know they should. Tooth loss is another issue that can cause trouble for your health, in the form of bone loss, malnutrition, and social or psychological problems. Dental implants are a great way to replace missing teeth — but does smoking complicate the process of getting implants?
The short answer is yes, smoking can make implant placement a bit riskier — but in the big picture, it doesn't mean you can't (or shouldn't) have this procedure done if it's needed.
Smoking, as you know, has harmful effects in your mouth (even leaving aside the risk of oral cancer). The hot gases can burn the oral cavity and damage salivary glands. Nicotine in smoke reduces blood flow to the soft tissues, which can affect the immune response and slow the processes of healing. At the same time, smoking promotes the growth of disease-causing oral bacteria.
How does this affect dental implants? Essentially, smoking creates a higher risk that implants may not heal properly after they are placed, and makes them more likely to fail over time. Studies have shown that smokers have an implant failure rate that's twice as great as non-smokers. Does this mean that if you smoke, you shouldn't consider implants to replace missing or failing teeth?
Not necessarily. On the whole, implants are the most successful method of replacing missing teeth. In fact, the overall long-term survival rate of implants for both smokers and non-smokers is well over 90 percent — meaning that only a small percentage don't work as they should. This is where it's important to get the expert opinion of an implant specialist, who can help you decide whether implants are right for your particular situation.
If you do smoke, is there anything you can do to better your odds for having a successful dental implant? Yes: quit now! (Implants are a good excuse to start a smoking-cessation program.) But if you can't, at least stop smoking for one week before and two weeks after implant placement. And if that is not possible, at least go on a smoking diet: restrict the number of cigarettes you smoke by 50% (we know you can at least do that!) Try to follow good oral hygiene practices at all times, and see your dentist regularly for checkups and cleanings.
If you have questions about smoking and dental implants, please contact our office or schedule a consultation. You can read more in the Dear Doctor magazine article "Strategies to Stop Smoking."