My Blog
Posts for tag: toothbrush
By South Lyon Dental Care Center
December 07, 2019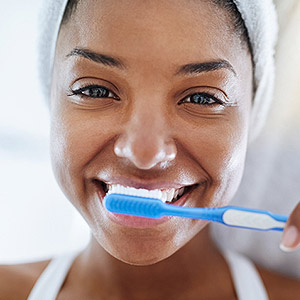 Henry Ford famously said a customer could have any color they wanted on their Model T "as long as it was black." Those days are over—today's cars and trucks come with a slew of options, and not just their paint color.
There's something else with a wide array of possible options: your choice of toothbrush. Your local store's dental care aisle has dozens of toothbrushes in a myriad of sizes, shapes and features. And many promise better hygiene outcomes because of their unique design.
It's enough to make your head spin. But you can narrow your search for the right toothbrush— just look for these basic qualities.
Bristle texture. At this all-important juncture between brush and teeth, softer-textured bristles are better. That might sound counter-intuitive, but soft bristles are just as capable at removing bacterial plaque, that sticky tooth film most responsible for dental disease, as stiffer bristles. Stiffer bristles, on the other hand, can damage gums and cause recession. Also, look too for rounded bristles (gentler on the gums), and multi-leveled or angled ones for better access around teeth.
Size and shape. Toothbrushes come in different sizes because, well, so do mouths. Look, then, for a brush and bristle head that can comfortably reach all the teeth in your mouth. If you have problems with manual dexterity, choose a brush with larger grip handles. A brush that's comfortable to use and easy to handle can make your brushing more effective.
ADA Seal of Acceptance. The American Dental Association tests hygiene products like toothbrushes. If they pass the association's standards, the manufacturer includes the ADA Seal of Approval on their packaging. Not all submit their brushes for this evaluation, so the seal's absence doesn't necessarily mean a brush is of low quality. The seal, though, does tell you the product passes muster with dental professionals.
It often takes a little trial and error to find the right brush, but since you should change yours out every six months, it's a small price to experiment. And, no matter how great the brush, it's only as good at removing plaque as the hand that holds it. So, be sure you learn proper brushing techniques—that and the right brush will keep your teeth and gums healthy.
If you would like more information on choosing the right toothbrush, please contact us or schedule an appointment for a consultation. You can also learn more about this topic by reading the Dear Doctor magazine article "Sizing Up Toothbrushes."
By South Lyon Dental Care Center
April 16, 2018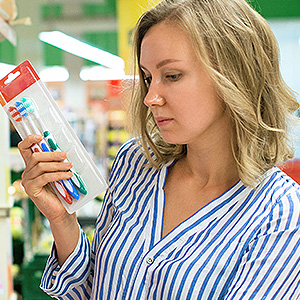 If there's one essential tool for dental health, it's the toothbrush. But though simple in basic design, manufacturers have nonetheless created a dizzying array of choices that often muddy the decision waters for consumers.
It doesn't need to be that way—you can choose the right toothbrush like a boss. First, though, you need to know a toothbrush's purpose expressed as two basic tasks: removing dental plaque, the thin biofilm that causes most dental disease; and stimulating the gums to maintain good health.
So what should you look for in a toothbrush to effectively perform these tasks? Here are 3 important factors to consider when buying this essential dental care tool.
Bristle quality. First, it's a myth that bristles should be hard and stiff to be effective—in fact harder bristles can damage the gums. Opt instead for "soft" bristles that are also rounded on the ends. And look for bristling with different levels of length—shorter length sections work better around the gum line; longer sections help clean back teeth more effectively.
A "Just right" size. Toothbrushes aren't uniform—you'll need to choose a size and shape that works well for you personally. You might find an angled neck or a tapered head easier for getting into your mouth's hard to reach places. If you have problems with dexterity, look for a brush with large handles. And be sure to ask us at the dental office for recommendations on brush dimensions that are right for you.
ADA Seal of Acceptance. Just like toothpaste brands, the American Dental Association assigns its seal of approval to toothbrushes they've evaluated and found to meet certain standards. Although you can find high quality toothbrushes that haven't sought this evaluation, an ADA seal means it's been independently tested and found safe and effective for use.
Of course, no matter how high quality the toothbrush you buy, it'll only be as effective as your brushing technique. So, be sure to use gentle circular or oval motions along all your teeth and gumline surfaces—it should take you about two minutes. We'll be happy to show you the proper technique in more detail, so you'll be able to get the most out of your chosen toothbrush.
If you would like more information on effective daily hygiene practices, please contact us or schedule an appointment for a consultation.